Article by Hunter and Sporthorse Magazine (Jan 2006):
Breeding a Stallion Prospect is a Long-Term Project
Terri Blatt owns Three Winds Farm in Wheeling, West Virginia, where she breeds Holsteiners for jumping. Terri looks forward to presenting her young Holsteiner stallion, Acclaim (Acorado x J-Siddartha), at the American Holsteiner Horse Association stallion approvals in 2006. Acclaim has impressed breeders so strongly that he has already attracted bookings even if he never receives official verband licensing. It's tempting to envy Terri's luck . . . but Acclaim is the result of years of planning, not luck. The story of Terri's stallion prospect begins in 1997.
Terri explains, "I saw Acorado in 1997 at his German Holsteiner stallion approvals.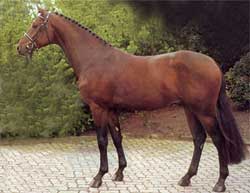 I immediately started searching for a mare to breed to him. The plan was to choose a mare that my daughter, Rebecca, could jump as well. On that trip a German trainer saw my daughter ride and hired her to come back to Germany and show his Holsteiners. This gave us the time and opportunity to analyze many mares. I started to envision breeding the type of jumpers that could help Rebecca realize her ambitions.
"Rebecca fell in love with a mare by Lord, but that mare didn't pass the vet inspection. The closest we could come to our first choice was a mare we found about a year later: J-Siddartha,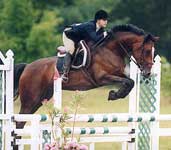 a 17-hand bay mare by the famous Selle Francais stallion Silbersee

(winner of the Hamburg Derby, Aachen and Horse Of The Year in Europe) out of a Lord mare. We purchased this mare—"Sid"—and five days later she won the Mare Site Championship in Elmshorn, Germany. I had found the mare we needed."
Sid was imported to the U.S. Time went by and Sid justified the Blatt's faith in her It was time to breed her, but Terri also wanted to keep the mare in training. So, with frozen semen from Acorado and embryo transfer procedures, Acclaim was born eleven months later. . In 2004 Sid won at 1.4 meters at Spruce Meadows. Terri was tremendously excited about the colt's potential. "Research revealed that Acclaim's aunt is Marimba LaSilla, a Captiol/Lord mare who is a Pan Am Games veteran. She's listed in the World Breeding Federation Sport Horse Guide 2000/2001. Acclaim's other two aunts, Caletto I/Lord mares, are owned by Marcus Fuchs, one of the top jumper riders in the world." As the colt grew and it became clear that the quality of his phenotype matched his stellar genotype, Terri knew that she had a stallion prospect. Acclaim is scheduled to attend his stallion approval in October, 2006.
"There's a sad postscript to the story," Terri adds. "Acorado passed away when he was only nine years old after an injury and two unsuccessful surgeries. He was at the height of his breeding and show jumping careers. He had been the Champion of his Stallion Performance with a jumping index which ranked in the top five highest ever recorded in Germany. In the 2005 Young Horse Jumping Championships in Germany, in the five- and six-year-old divisions, Acorado's offspring were the highest ranked Holsteiners there."
Hopefully Terri's young stallion will continue his sire's influence on the breed.